Shopping Cart
Your Cart is Empty
There was an error with PayPal
Click here to try again
Thank you for your business!
You should be receiving an order confirmation from Paypal shortly.
Exit Shopping Cart
Here to help you SUCCEED
and
ACHIEVE your goals!
This blog is just a mix of things from what may be going on in general, some news information that pertains to health & wellness and even what we are doing as a family working on our lifestyle change!  If you have any questions, suggestions or comments, please by all means contact me! 
This blog is a personal blog written and edited by me. For questions about this blog, please contact [email protected]
This blog may accept forms of cash advertising, sponsorship, paid insertions or other forms of compensation.
The compensation received may influence the advertising content, topics or posts made in this blog. That content, advertising space or post may not always be identified as paid or sponsored content.
The owner(s) of this blog may be compensated to provide opinion on products, services, websites and various other topics. Even though the owner(s) of this blog may receive compensation for our posts or advertisements, we always give our honest opinions, findings, beliefs, or experiences on those topics or products. The views and opinions expressed on this blog are purely the bloggers' own. Any product claim, statistic, quote or other representation about a product or service should be verified with the manufacturer, provider or party in question.
This blog may contain content which might present a conflict of interest. This content may not always be identified.
So here it is, December 28, 2018.  Another year has passed us by and so much has happened causing me to put many things on the back burner.  This year was/is my health year.  I had many things happen, good and bad with my health.  What good am I to others if I am not in good health, right?  I have also grown even more this year and really taking a look at my life, what has happened, where I want to go, and what really matters.  So 2019, watch out because this whitchy, holistic chick is rising from the fires!  I learned a lot this year, I learned who to trust, and who to kick to the curb.  Does that sound harsh?  Well, it's because it's the truth!  I learned who has an "image" to uphold and who really doesn't give a flying rat's ass and wants to live life and be happy!  What a concept, right?  I mean, be happy with your life?  Amazing!  Mindblown!  While it may seem as if I don't care, it's quite the opposite.  I care more than I ever have and it's because of not only my wellbeing, but my husband and kids well being too.  We deserve to make the most of our lives and do what we love!  Will we get hurt?  Yeah but we are learning to get up off the ground we fell on from the bucking Unicorn, dust off, and hop the hell back on and keep on going!  We are learning to eliminate negativity, toxic, and evil beings from our lives that insist on finding ways to bring us down.  I have found my boldness and that I have even more of a foul mouth - but it is the way I express myself.  I can't hold back because it's not me.  Does it offend people?  I'm sure it does but if they can't accept me, then to hell with them!  It has taken me way too long to start to find myself and I sure as hell ain't turning back now to please others!  Life is short and I am going to live my life and be happy.  If I can't be happy, how can I possibly help others to find their happiness?  I work in a field where any day any little thing offends someone.  You can't have an opinion without people bashing you, arguing, etc.  Those are the close minded people who have some kind of image to uphold for others.  I learned to cover my ass with those kinds of people.  In essence, my goal is to make my 2019 goals and work on them, enjoy life, and just be happy.  As I always say - stay tuned; better yet tune into my Instagram account @BWLLLCOfficial and take a gander at all the goodies I post and share!  I post a little something for everyone (ok well just about everyone)!  Take care and til later!
Coach RowanMichele 
OK, so yes, yes... I'm working on keeping up with the website and blog.  Unfortunately it does require money which we are a tad short on at the moment so I am doing the best I can with what I have!  I'm sure you have been there at some point or another, right?  Part of it is the fact my husband and I have WAYYYYYY too big of hearts for helping people and we seem to give the benefit of the doubt to those we probably shouldn't, AND know we shouldn't.  But as usual we feel everyone deserves a chance... then we get screwed over - no matter if it is family or friends.  Oh well... another lesson (well lessons) learned and time to put our damn feet down and say "NO!" We have to think of us and our kids... so unless we win the lottery (which obviously we have to play to win and we can't afford to do that lol) financial help is out for us to others. 
In the meantime, other than the getting royally screwed over, there have been some stressors and changes that happened.  One is the fact that I took the semster off from school.  I was beyond burned out and felt it would be best to take the time off, considering the horrendous summer we had.  I also spent months (no exaggeration) applying for jobs to help with the finances... yeah applied at DOZENS of places claiming to be hiring only to hear nothing or be turned down without even being given a chance.  Talk about discouraging and so frustrating!!  Luckily, a great place called after 2 months (and then a 2nd part time seasonal place called) and I was hired full time and just lierally started my job at my store.  It is very odd (not sure if it's the right word) to be back to work after getting so sick and not working for 6 years.  But I have seemed to catch on pretty quick and actually enjoy it to a point.  It is tough with my beliefs but I have to do what I have to do, and I am one who will do my job to the fullest and then some regardless.  I was hired to do a job, so by golly, I'm gonna' do it!  I have always had a very high and strong work ethic and I pride myself on that fact!  As far as the 2nd job, it is during Spring Training for a couple months and I'm excited for that!  
Despite taking the time off from school, I am enrolled for the Spring semester because I am way too close to my Bachelor's Degree to stop now!  Still debating if I go for another Bachelor's in Nutrition or seriously consider ND school.  I have time so we shall see.  I have our son graduating high school in May and then the next year ('19) our daughter graduated high school!  Then all 4 of us will be in college!  Yeah, crazy right?!?!  Our son wants to do computers (gaming of course) and our daughter has discovered A&P in high school and wants to go into healthcare.  We are excited for both of them!  
I have had some time to think and redirect myself over the last few months and am still woking on a few things but am excited at what I have been learning and doing spiritually.  I will be sharing more of that (along with some rants and pet peeves because EVERYONE has those no matter how positive one is!!).  We are all human and suppressing feelings isn't good so yes, there will be some sailor/potty mouth rants because it is good to get those feelings out and use the sentence enhancers to express/stress those feelings.  To me, it's the reality of being human.  Pretending life is all fancy free and hunky dory is just not in the cards for me at this point.  It is brutal honesty and reality.  No bullshitting; plain and simple!  
In closing, I just wanted to do a check in and update for the moment (brief as it is) and to say yes I am still here!!  AND I will be working harder to keep up on the blog!  Thanks for reading and feel free to share!!  Til later!! 
https://tenor.com/view/dance-carlton-freshprince-willsmith-gif-5025930" target="_blank">http://https://tenor.com/view/dance-carlton-freshprince-willsmith-gif-5025930

 
Well, holy hell!!  LOL!!  Hello and yes it has been quite some time since I have done much of anything on this website...  let's just say life threw some MAJOR curveballs, monkey wrenches, and whatever else it could possibly find to chuck in my direction (and my family's)!  BUT we survived and are pulling through the slop of a mess that we have been dragged through by others this year.  We learned some really, really hard and tough lessons this year.  Well, hoping that the Universe looks at it as we have learned lessons and hope we don't have to re-learn any of them!  It would be an understatement (IMO) to say the struggle has been real this year!  So real in fact, we are still recouping because we aren't quite there yet stability wise.  We are still working on some things as a family which is one reason why my schooling took a back seat this semester along with this website and any work or ideas I had planned.  During this recoup process I am working on ideas and plans for this business and website.  My eyes have been opened even more over this past year with so many things that I now have to do the organization process so I can move forward.  Now, it will still be tough because on top of this business and website, I started another business, picked up a full time job that I start training for next week, AND a part time temp job in February during Spring Training season!  Oh and not to mention registering for school full time for the Spring semester... yeah as I said, my eyes were open REALLY WIDE!!!  Now, I know I am probably biting off more than I can chew but I have learned that if I need to say no, then by golly I say NO!  Oh yeah, that was a tough lesson to learn!  No doubt about it, but "family" and "friends" gave not only myself, but my family that tough lesson.  I found I personaly can say no to people, and be ok!  My family and I are all about helping others when we can, we always have been that way... including helping strangers - and we do not expect anything in return other than for those that we helped to pay it forward.  Unfortunately, certain "family" members and "friends" took advantage of us this year and left us hanging.  The spite and pure evil that ensued when we put our foot down and said no was nothing like anything we have EVER experienced!  It was downright horrible and got to the point of cutting people out of our lives because of the lies being told.  We were given no choice but to rid our lives of the negative and extremely toxic individuals by no longer communicating with them and even those that they talked to.  The harrassment was uncalled for by these people; the bullying, degrading name calling and other unimaginable actions were affecting us so much that we knew we had to block people on social media and even our phones.  Since we have taken those steps and actions to remove that negativity and toxcitity, things have been FINALLY getting back to some normalcy!  I think we all will be glad when we are back to normal so we can move forward to be even better!  That's what we are looking forward to; getting our lives to an even better and more positive level and just enjoy life and be happy.  There has been a lot of reposting of positive messages and such on my Instagram and Facebook social media (you can also find my FB page under CoachRowan Michele).  Reading all those messages and reposting them has helped me work on putting things back into perspective and to get myself back on track.  Not to mention my awesome sis/BFF who has been there for me through all of the turmoil this year and has kept me going and lifted me up.  I love you girl and cannot thank you enough for EVERYTHING!!!  In closing, while things can seem like they are going wrong every single day, it doesn't mean it will continue.  Look at the situation and see what lesson it is you are to learn.  Once you have that a-ha moment and see what the lesson is, you will feel that freedom and break those negative and toxic bonds!  Til later! 
Coach Rowan 
I am going to share my favorite recipe for homemade deodorant. I have to apologize as I do not remember where I got the recipe from but I do tweak it to my preferences. Being in the desert I was looking for something that worked for sweat and odor and lasted.
Homemade deodorant recipe:
1/2 c. baking soda; 1/2 c. arrowroot powder (original recipe called for cornstarch); 10 T unrefined solid coconut oil; 10 drops of essential oil (I tend to use more since I always add Tea Tree oil and usually one for scent with my favorite being Ylang-Ylang or Jasmine).
Basically I mix the baking soda and arrowroot powder until incorporated; add the coconut oil and again make sure it is all incorporated. Once it is mixed well and incorporated I add my essential oils and scoop into a glass jar.
This is where I order my essential oils from: (affiliate link) https://barefut.com/?a=99" target="_blank">https://barefut.com/?a=99
I hope you enjoy and would love to hear feedback from those that decide to give this recipe a try!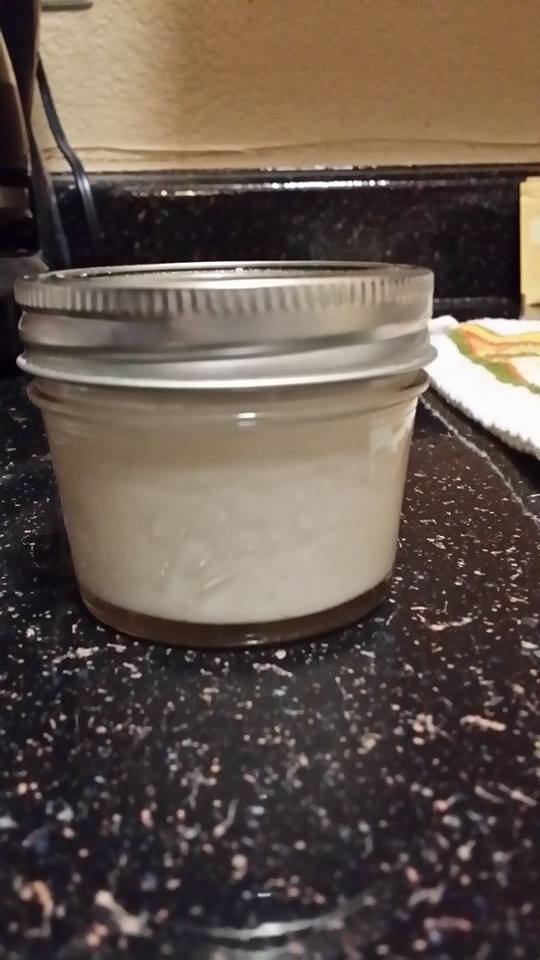 After 2 days of rain I am welcoming the spurts of sunshine and warmer temps despite the winds!  So as I posted on Instagram I had never eaten or made Shepherds Pie but it was something I was interested in trying.  Something new for us to try - which I am making it one of my resolutions to make more of a variety of home cooked meals.  I wasn't sure how it would turn out but I figured it was worth a shot - I loved it to say the least (and it even tasted good as leftovers)!  I am a crock pot junkie (I have 3 of them LOL) and find that many times it is so much easier to use my crocks to make meals because I am able to basically put the ingredients in and not have to stand over the stove or oven (and they are a savior in the summer time)!  Now, I knew it required meat, veggies and mashed potatoes.  That was about the extent of what I knew about Shepherds Pie.  So I pulled out one of my trusty crocks and put about 2 pounds of grass fed beef in, some dried minced onions, turmeric and ginger powder (I add these 2 spices to just about everything I cook), about 1 cup of water, and a about 8 splashes of Worcestershire sauce (you can buy what I use here - affiliate link), and some Himalayan salt (You can buy the kind I use here - affiliate link).  I let the meat cook throughly and once the meat was cooked I added a 16oz. bag of organic mixed vegetables to the meat.  Then I cut and cooked about 7 organic potatoes and when they were done I mashed them, added some grass fed butter, milk, some Himalayan salt, cheese, and parsley.  Once the mashed potatoes were finished I scooped by spoonfuls on top of the meat and vegetable mixture and allowed it to cook on low.  Whether it would be considered Shepherds Pie, I don't know but for not having knowledge on how to make it and never eating it - this was yummy!  Something I will definitely make again!  If you decide to give it a try, drop me a line or comment on how it was!  I would love to hear about it!  Coach Michele

Sunday January 3, 2016  by Coach Michele
Good morning and I hope everyone has had a safe and Happy New Year ringing in 2016!  We chilled and watched the ball drop back east in NYC (as I always grew up watching that as my part of ringing in the New Year, regardless of where my location was).  I was able to sit back and do some reflecting before and after.  One of the things I found myself thinking about was how despite the trials and tribulations (current and past) my family made it through the rough patches.  It was tough but we did it, and are still managing to continue to trudge through these current ones that are ongoing.  So I am making it a point to really focus not only on my family (as I continue to always do), but really start to work on my business (and yes still going to school)!  I know, it sounds tiring already right?  LOL  One of the things I want to share from 2015 is my piece with Coach Omar and The Wellness Ultimatum where I was a guest on his show.  You can check it out here from Coach Omar's tweet: The Good, The Bad, The Ugly of Weight Loss Surgery on Thewellnessultimatum will air 09/19. http://tobtr.com/s/7938707 #BlogTalkRadio #BeWellLifestyleLLC .  The show gives a nice background regarding my decision of having gastric bypass surgery (which will be 8 years on January 23rd (2008 )).  While having the surgery was a life changing decision, I had no idea that there was such a thing as having a coach, reading labels, etc.  It took nearly 4 years for me to realize that aspect and how those things were so vital to health and wellness.  I began to watch documentaries, do more of my own research and went back to school (and am in the process of pursuing my Bachelor's in Integrative Health as I have now changed to that major).  Ironically, with the research and schooling my kids have had things pop up in school regarding GMOs... guess Mom was able to help with that!  I look forward to working on blogs/articles each day and really putting more into my business this year... a new year with positivity - 2016!  While my family and I spent the first 2 days of the new year relaxing, today we began the day by taking down weights and blood pressures.  I downloaded My Fitness Pal and Runtastic apps on my phone (considering my vehicle works when it wants to - hence I tend to walk most everywhere if it's within a reasonable distance and I don't have to get a lot of items).  I'm looking forward to getting word out about Be Well Lifestyle LLC and what I do.  Happy New Year to all!  Coach Michele

Well, nearing the end of 2015... hard to believe the year is almost at a close and we will be ringing in 2016!  I have been writing down the goals I have for 2016 (other than school of course!) and Be Well Lifestyle LLC.  Also working on the 2016 goals for the family as we have gotten a bit off track, but as I said, working on the goals to get back on track for a healthier 2016!  My family and I wish everyone a very Merry Christmas and a safe and Happy New Year!  Looking forward to the new beginnings!
Coach Michele

So I have been awake for a couple hours now... decided I needed to get up a little after 3 AM here and do a post from my personal page on social media and I want to share it on here...  It's just one of "those things" I feel I needed express for some reason... maybe it has to do with the recent full moon?  As I say in it - I know the world works in mysterious ways and many people instead of embracing what the Universe or loved ones are trying to "tell" them and listening, the signs are often ignored...  why?  It took me a long time to start to learn to embrace signs and I still get the "okay sure" look or huffs but I know better.... now.  It's never too late to learn but you have to be willing to see and embrace what the signs are.  Here's my post:
You know, it's early here... way too early - a little after 3 am too early! And of course this is long... But recently I have been getting "vibes" about friends from the past. Why I don't know - sometimes I tend to think it's because I have to write discussions or papers for school that involve my past experiences? I mean we (meaning my graduating high school class) just had our 20th anniversary and being in the field I am I miss a lot of my friends, whether we graduated together or not - met in passing through the years and so on. I miss writing letters to my friends... I know we are all busy with our own things, families, causes, etc. But I like to take the time to have a quick chat and see how people are doing. It was fun to meet up with 2 of my friends here from school. It was nice to see them after 10-20 years and you know I don't think any of us changed a darn bit other than having families and getting to meet everyone. I miss my big brothers from Sig Tau at Purdue, I miss my Purdue roomie Alisa, I miss my friend Andrew who I met as a co worker back in Indiana, I miss my (who I consider) good friend Mike from 8th grade... maybe that's why I was to watch "The Notebook" to reflect back on those that have touched my life in so many different ways and hope that maybe one day any of them who may read this will get back in touch with me and be able to catch up with each other? Maybe it was the death of someone who I considered a friend before I found out he was a famous NBA player (RIP Darryl)...  I have to say I truly believe that things work in mysterious ways and it is different for everyone - I think that movie is my motivation to try and get back in touch with those that really made an impact in my life or at least hope this gets to them and maybe they can contact me. So if anyone may know some of the people feel free to pass this along... Thanks...

I got some really encouraging and to me, exciting news!  Had gotten a visit from friends not long ago and the subject of food came up (specifically chesse for pizza), and my husband brought out the block chesse and started shredding it.  Of course his friend asked why we do this instead of the easy bagged cheese.  That got us all talking about food and reading labels.  We told our visitors we can't even attempt to eat bagged pre shredded cheese anymore and talked about reading the labels and showed some labels of different foods.  The response was, well, I don't know how to explain it but disbelief maybe?  My husband proceeded to explain about what is in the other "cheese" and I had a grin from ear to ear.  In a way it was like we were giving a mini session regarding food which felt awesome!  My husband even said if you change just one thing, start with cheese.  Don't buy the wrapped processed slices or the bagged stuff, buy a block of cheese and a shredder and give it a whirl.  I mean, what a small but HUGE step for a family to take.  Well, they returned home and did buy block cheese and a shredder.  While my husband was back home in town about a month or so later,  he visited his friend and guess what?!?!?!  They no longer buy bagged cheese!  His friend read the labels and when he got to the mold inhibitor part of the ingredients, that pretty much did it for him.  They now buy block cheese and shred their own!  This is exciting for me because it shows that just even a small bit of education on food can make a difference.  The process is baby steps, as I could not expect someone to go "cold turkey" on all food.  But this made me so happy to know that what I call "My Easy Cheesy Experiment" works!  Again, start small and take on "My Easy Cheesy Experiment" and see what results from that one change!  Make sure to read the labels too!!  That is such a critical part when making these type of lifestyle changes!!  If you decide to take on "My Easy Cheesy Experiment", I would LOVE to hear your experience!!  Til later!
/